Seeds for 2016
30 Dec 2015
Vegetable seed shopping is always a hazardous time of year for me. I have a bit of an obsessive collector's urge about seeds, and I always spend too much money on things that look interesting or things that look like they might be improvements on what I already have.
I prefer seeds that are that are heirlooms (older varieties) or open-pollinated (sets seeds and breeds true), but I'm not a fanatic about it. I will happily grow a hybrid seed if it works better than the open seed. "Better" can mean better disease resistance, or bigger and more fruit or other edible parts. In any given year I'll probably grow 50/50% heirlooms to hybrids.
I do save some seeds from year to year, if it's easy, which mostly means tomatoes and green beans. A lot of the stuff I grow in the garden readily cross-pollinates and produces weird mixtures (squash, peppers), or needs a full two years of growing to set seed at all (all the broccoli-types, carrots, kale, chard). Neither of these things are ideal for my garden, so I just don't bother. Seeds are pretty cheap as far as hobbies go, even if I do get carried away.
The seed catalogs ("seed porn" as Eric calls them) come out in late December, which are always fun for browsing over breakfast in the dark days of the year. But since I like to start some seeds in January, I try to get my orders in earlier than that.
I usually order from three stores:
Peaceful Valley Farm Supply: Good, basic organic heirloom seeds at good prices. They also carry Renee's Garden seeds which have more interesting varieties.
Baker Creek Heirloom Seed Co: Huge variety of heirlooms, including really unusual and rare varieties. They also usually give you an awful lot of seeds per packet.
Johnny's Selected Seeds: More expensive, but the best source for high-quality hybrid seeds in large garden or semi-professional amounts.
This year's seeds arrived last week: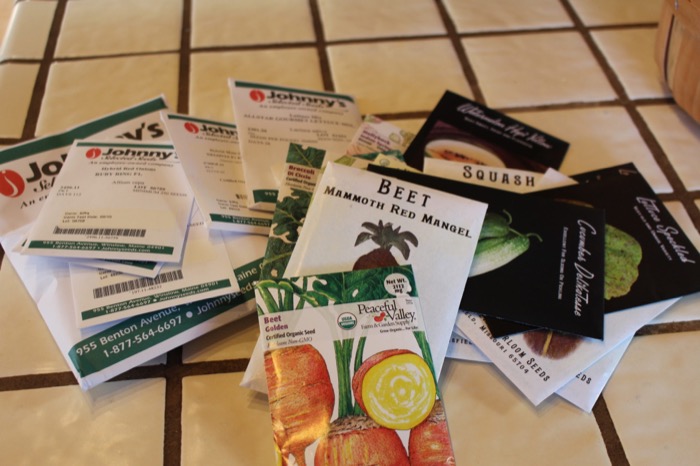 Here's the list of stuff I got for this year, in no particular order:
Beet Mammoth Red Mangel – huge beets, the chickens eat them
Beet Chioggia
Beet Golden Detroit
Rutabaga Helenor – hybrid
Onion Stuttgarter
Onion Evergreen Bunching
Onion Ruby Ring
Leek Gavaria
Brussels Sprouts Hestia
Broccoli Di Ciccio
Carrot Negovia
Lettuce Mix Allstar
Lettuce Speckled
Squash Sweet Meat
Watermelon Hopi Yellow
Cucumber Delikatesse
Sorrel Green De Belleville
Hollyhock
Pea Penelope
Posted on 30 Dec 2015

•

in blog

•