Please now imagine a flushing noise as I clean out my to be blogged list for your enjoyment.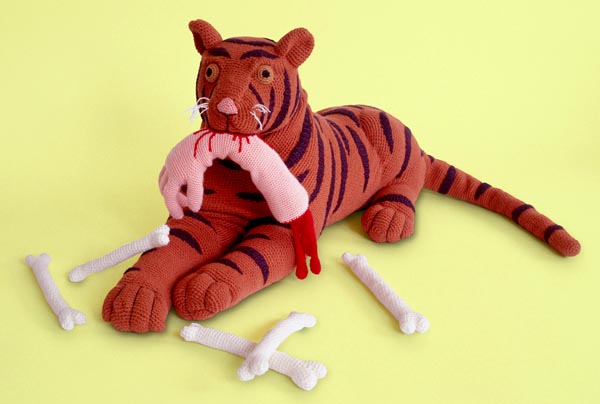 Patricia Waller Plushies for Sickos. Alas, art and not actual toys.
McSweeneys: Giant Squid Takes "US Weekly" to Task. I didn't know the Giant Squid was dating Neve Campbell.
"Considered Harmful" Essays Considered Harmful. Its kind of a geek thing. By Eric Meyer (genuflect, genuflect).

Cat Cable Clips, Set of 3. LOOK! LOOK! EEEEE!!!!

Get to Work: My favourite item from despair.com.
Hello Kitty Bad Breath Analyzer. You blow into it and it gives you helpful advice ("your tongue has grown moss"). But I wonder what sort of an authority is Hello Kitty on bad breath anyhow? Hello Kitty HAS NO MOUTH.
Is it OK to Fetishize Cookware? Yes, it is OK to fetishize cookware. But this guy gets a little carried away ("I'll only stick the asparagus in for just a minute…")
Apple Support Calls: A whole bunch of MP3s of apparent actual recorded calls to Apple Tech Support. It is just horrible. I want to send a very large fruit basket to this guy. Thank you, thank you, thank you, for not being me.

Cute Overload. Nuff said.

James Bond's Aston Martin up for sale. The DB-5 from Goldfinger and Thunderball (well, one of four) goes up for auction January 20. It includes extending wheel tire-slashers, passenger ejector seats, oil slick squirters, revolving number plates, and of course, front firing .30 caliber Browning machine guns. The car is expected to go for $1.5 to $2.5 million.
The Chronic- what? -cles of Narnia Rap, aka Lazy Sunday from SNL. This has been madly making the rounds but if you haven't seen it yet you need to. Its way neat. Lyrics here.