a walk in the woods
06 Jul 2006
Where I live is ideal for getting lost in the woods; I'm within a very short distance of about a dozen open space areas, none of which is smaller than about 400 acres. One of my favourites is Castle Rock, a state park just up the road from me, a huge park popular with both hikers and especially with rock climbers thanks to the really huge boulders.
Over the July 4 holiday I didn't have any special plans so I thought I'd go out for a long hike in the park. I got there early, worried about the crowds — but I shouldn't have been worried, I was only the second car there. And besides even with a park as popular as Castle Rock I've found that once you hike out from the parking lot more than about a mile there's no one there. People go out to the falls and to the climbing rocks and not much farther.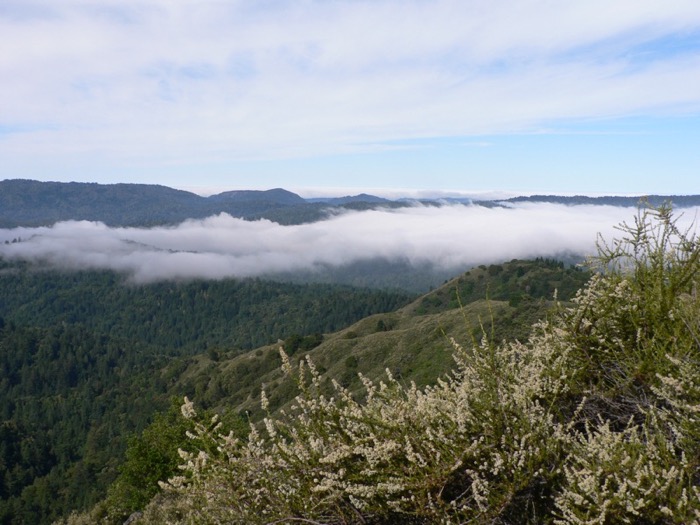 The far paths in the park wind along the side of the ridge and the views are really gorgeous. This is my favourite part of the hike although I've been out here when its been completely foggy and once it rained on me. Most of the time, however, its really dry as the path here is exposed and sunny most of the time.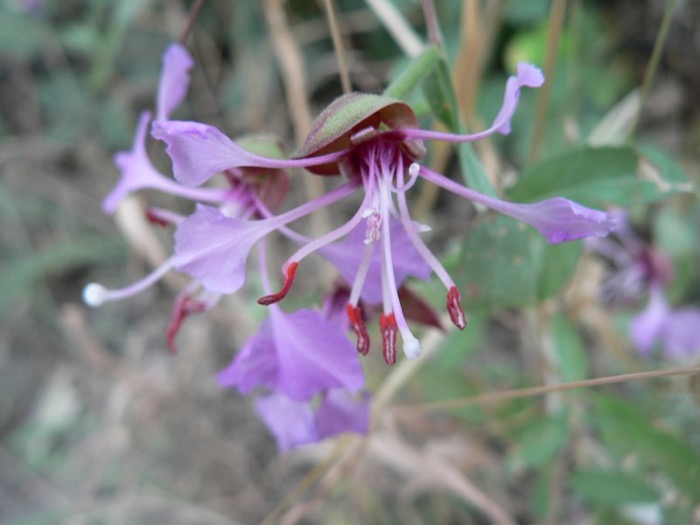 Its late in the year for wildflowers but still there's always something to see. The sides of the hills were covered with clover and california poppy and these little purple flowers. I have no idea what these are — I've never seen them before. From their appearance I'd guess some sort of native columbine but I really have no idea.
Update (2021): This is a native clarkia, Clarkia unguiculata.
Posted on 06 Jul 2006

•

in blog-archive

•